Siamese Twins Exhibit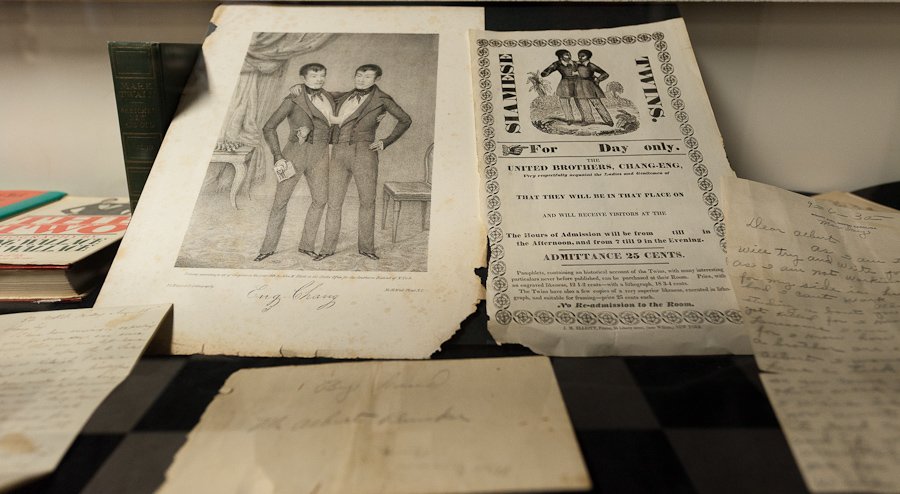 The Siamese Twins Exhibit is located on the lower level of the Andy Griffith Playhouse, home of the Surry Arts Council.
Hours:
Monday - Friday
9:00 a.m. to 5:00 p.m.

Saturday
11:00 a.m. to 4:00 p.m.

Sunday
1:30 p.m. to 4:30 p.m.
Included with Admission to the Andy Griffith Museum and Old-Time Music Heritage Hall
Andy Griffith Playhouse
218 Rockford Street
Mount Airy, North Carolina 27030
Phone 336.786.7998
Map It
Download the Surry Arts Council Venues Map
Siamese Twins
Frequently Asked Questions

Siamese Twins History
Eng and Chang were Born in the village of Samutsongkram, Siam (now Thailand) on May 11, 1811. Eng and Chang Bunker were connected at the chest by a cartilaginous band of flesh. The twins shared relatively normal boyhoods in Siam, running and playing with other children and helping to support their family by gathering and selling duck eggs in their village. On April 1, 1829, the twins left Siam and began a career traveling with two agents, Robert Hunter, a British merchant, and Abel Coffin, an American sea captain. Eng and Chang earned money by making appearances throughout the United States, Canada, South America, and Europe. In their far-flung travels, Eng and Chang became such popular celebrities during the 1830s that their promotion as "Siamese Twins" were terms that be came synonymous with connected or conjoined twins. In 1832, they fulfilled their contracts and declared their independence from their agents.
By the late 1830s, Eng and Chang tired of all their traveling and opted to settle in North Carolina. There, the brothers married sisters, Adelaide and Sarah Yates. The sisters were the daughters of Nancy and David Yates, Quakers from Wilkes County. The couples were married on April 13, 1843 and produced 22 children between the two families. They moved to White Plains, just west of Mount Airy, in 1845. They were successful farmers and good citizens. They split their time between the two families with a rigidly followed system of three days in one house followed by three days in the other with each being the master in his home. They observed this without exception until they died on January 17, 1874, at the age of 62.
They are buried at White Plains Baptist Church. On the way to their gravesite, you will cross the Eng and Chang Bunker Bridge that is over Stewarts Creek, the body of water that separated Eng's land from Chang's land. The church is built on property that once belonged to the Twins and they helped to build it!
Eng and Chang Bunker continue to be of interest to researchers in many fields. Cynthia Wu, Assistant Professor of American Studies at the University of Buffalo, has new research that will be in her book on the Twins' impact on American literature and culture. Todd Perriera, who lectures on religious studies at San Jose State University in California, believes that Eng and Chang were America's first Buddhists. His research led the Surry Arts Council to new images from the Wellcome Library in London, England. The Siamese Twins Exhibit has 18 new images - in celebration of the 200th anniversary of the birth of Eng and Chang. Perriera's research continues to reveal new firsts!
Bunker Reunion Weekend
Decendents of Eng and Chang Bunker annually come to Mount Airy during the last full weekend of July for the annual family reunion. The public is welcome to participate in this annual reunion.
Siamese Twins Timeline
May 11, 1811 Birth in Siam to Nok and Ti Eye, 1/4 Siamese and 3/4 Chinese in origin

1819 Twins father and many family members die of cholera

December 18, 1822 Birth of Sarah Yates to Nancy and David Hayes Yates

October 11, 1823 Birth of Adelaide Yates to Nancy and David Yates

1824 Robert Hunter visits twins in their village in Siam

1825 Twins visit King of Siam

1827 Twins sent on goodwill trip abroad

1828 Captain Abel Coffin visits Siam and meets Twins

April 1, 1829 With King's permission, Twins leave Siam with Coffin and Hunter

August 29, 1829 Twins arrive in Boston, hire James Hale, visit New York and Philadelphia

October 1829 Twins depart New York with Hale and Captain and Mrs. Coffin for Great Britain

November 1829 Twins arrive in England, begin 14 month tour and medical exams

January 1831 Depart England for New York, Hunter sells his interest

March 1831 Twins arrive in New York, Coffin turns over business to his wife

1831-1832 Tour Eastern US, Charles Harris replaces Hale

June 1832 Twins become independent and begin touring

October 1839 Twins apply for American citizenship, become farmers

June 1840 Twins complete home in Trap Hill NC, begin using name Bunker

April 13, 1843 Married, Age 31

1845 Establish home in Mount Airy so children can be nearer to a school

1857 Divide farm and build a second home for Chang's family, begin 3 days in each home

1860-1868 Spend brief periods with PT Barnum

1868 Mark Twain's essay on the Siamese Twins published

July 1870 Chang has stroke during return trip from Liverpool

January 17, 1874 Death of Eng and Chang

April 29, 1892 Death of Sarah (not buried with Twins)

May 21, 1917 Death of Adelaide, age 94, Twins bodies moved to White Plains Baptist Church, Adelaide buried there with Twins

January 25, 1951 Death of Robert Bunker, last living child of Twins (Eng)

1956 Eng Bunker homeplace destroyed by fire
News Updates
July, 2014 - 25th Annual Bunker Family Reunion article and video, Winston-Salem Journal.
July, 2014 -Thai Ambassador to visit Mount Airy article, Mount Airy News.
November, 2012 - Our State Magazine article "Indivisible: Chang and Eng Bunker" by Philip Gerard for The Civil War Series: Life in North Carolina.
November 3, 2011 - Carolina News 14 segment on the Siamese Twins (1:59 mins). Watch here.
November 3, 2011 - Carolina News 14 Extended Interview with Tanya Jones (11:35 min). Watch here .
July 29-31, 2011 - 22nd Annual Bunker Family Reunion in Mount Airy. Read Mount Airy News articles (29th) (30th) (31st )
July 24, 2011 - Voice of America article Historian Recounts Role of Chinese Americans Who Fought in US Civil War.
June 7, 2011 - WFAE 90.7FM Charlotte Talks story on Eng and Chang Bunker. Listen here.
May 15, 2011 - Charlotte Observer article on the Siamese Twins.
May 10, 2011 - 17 new pieces from the Wellcome Library in England have been added in honor of the 200th. See photos.