Mount Airy Old-Time Retreats
February 27-29, 2020
Retreat Details

Tuition is $225
February Retreat instructors include Martha Spencer, Emily Spencer, and Trish Kilby Fore.

June 3-6, 2020
Retreat Details

Tuition is $325 or $125 for individual days
June Retreat instructors led by Andy Edmonds with Kevin Fore, Chester McMillian, Kirk Sutphin, and others.



Visit our Facebook page for the latest updates.
Classes will be small as each retreat attendance is limited to no more than 50.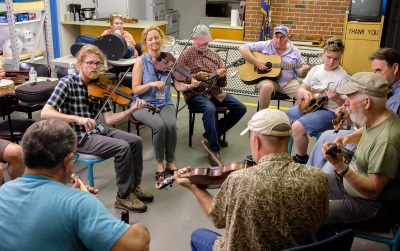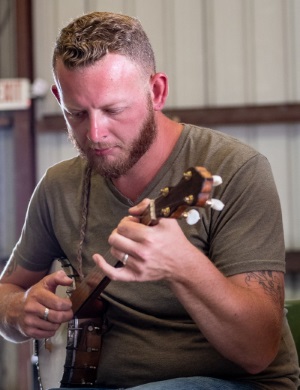 About the "Surry County Sound"
Old-time music in Mount Airy and Surry County, with its unique rhythmic intensity and drive, has a fascinating history that continues to attract the attention of musicians and enthusiasts worldwide. Its pantheon of venerated "master" musicians (including Tommy Jarrell, Fred Cockerham, Benton Flippen, Verlen Clifton, and Earnest East whose portraits grace the walls of downtown Mount Airy's Historic Earle Theatre), a distinct "Surry County sound", and abundant present day musical activity ensures this region's status as an epicenter of old-time and an important site of North American musical heritage. From the early 1970s, musicians and folklorists from all over the United States and from around the world made pilgrimages to Mount Airy and Surry County to visit local musicians, many of whom spent time at the home of our local musical icon and 1982 National Heritage Fellow, Tommy Jarrell (1901–1985). Those who visited Tommy at his modest white house in the community of Toast – just a few miles from downtown Mount Airy along Highway 89 – stayed for days or even weeks at a time to learn his style, instrumental technique, and repertory. His generosity, charisma, warmth, and culinary skills made visitors feel at home; his vivid storytelling transported them back to times and to people passed.
While old-time and bluegrass can be heard in Mount Airy year-round when musicians gather for impromptu jams on the street, in sessions at local breweries and restaurants, and at informal gatherings in peoples' homes, a number of public events and exhibits draw great crowds. The Historic Earle Theatre (built in 1938) is home of the Old-Time Music Heritage Hall, an interactive, educational museum that brings to life artifacts and exhibits relating to the lives of our prominent musicians and dancers, past and present. Every Thursday, the Earle attracts old-time and bluegrass musicians for a free, weekly jam session where all are welcome to participate. On Saturday mornings, the Earle becomes the venue for WPAQ's "Merry-Go-Round," the second longest continuously running live radio broadcast in the nation besides the Grand Ole Opry, that showcases a variety of old-time and bluegrass acts. Each month, we welcome award-winning bands to play as part of the Surry Arts Council's "Blue Ridge and Beyond" series. And, during the first weekend of June, thousands of old-time musicians and enthusiasts from all over the country and the world congregate at Mount Airy's Veterans Memorial Park for the annual Fiddlers Convention. Here, the Surry Arts Council holds special workshops and demonstrations that celebrate local musical heritage.

As the Surry Arts Council is dedicated to assisting in the promotion and preservation of our unique and treasured regional music as well as cultivating a wider appreciation of old-time music and dance more generally, we welcome you to join us in the foothills of the Blue Ridge Mountains for one, or both, of our annual "Mount Airy Old-Time" retreats in February and June.
Contact the Mount Airy Visitor Center for additional information on Mount Airy including lodging options at area hotels, motels, bed & breakfasts and Airbnb.
For the latest updates and news, follow the Mount Airy Old-Time Facebook event page.