Women! Mount Airy Old-Time
March 1-3, 2018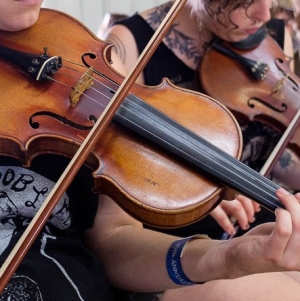 Make time for old-time in Mount Airy during the Tommy Jarrell Festival. Celebrate with us the rich contribution of women to old-time music and dance, past and present. Learn from some of the most esteemed and respected women in the field through classes, presentations, workshops, and performances. All are welcome to participate, regardless of gender!
The classes will be held in venues at the Andy Griffith Playhouse and Historic Earle Theatre. Sign up for classes at the time of registration. Classes include fiddle, banjo, guitar, bass, mandolin, flat foot dance/square dance calling, and harmony singing. There will also be clinics for old-time band, influential women in old-time music, and other topics. Registrants are free to change classes until class size limit is met.
REGISTRATION
Register online through the Surry Arts Council's secure Eventbrite site. Please contact Marsha Todd at 336.786.7998 or via email with any questions or for registration assistance.
TUITION
Tuition is $350. Payment in full is confirmation of your registration. $100 is nonrefundable. The balance of the tuition is refundable if requested by January 31, 2018. Tuition includes classes, meals (lunch and dinner), event tickets, and a t-shirt.
ATTENTION YOUNG MUSICIANS
A limited number of youth scholarships are available. Complete the scholarship application (.docx or .pdf), including a statement of need, and submit in person, by mail or email to antonia@surryarts.org. Young musicians are included in all of the classes. In addition, there are youth competitions at the Tommy Jarrell Festival and the Mount Airy Fiddlers Convention.
SCHEDULE
The retreat schedule for all three days is below. You may also download a one-page version that includes instructors for each class or lab.
INSTRUCTORS & COORDINATORS