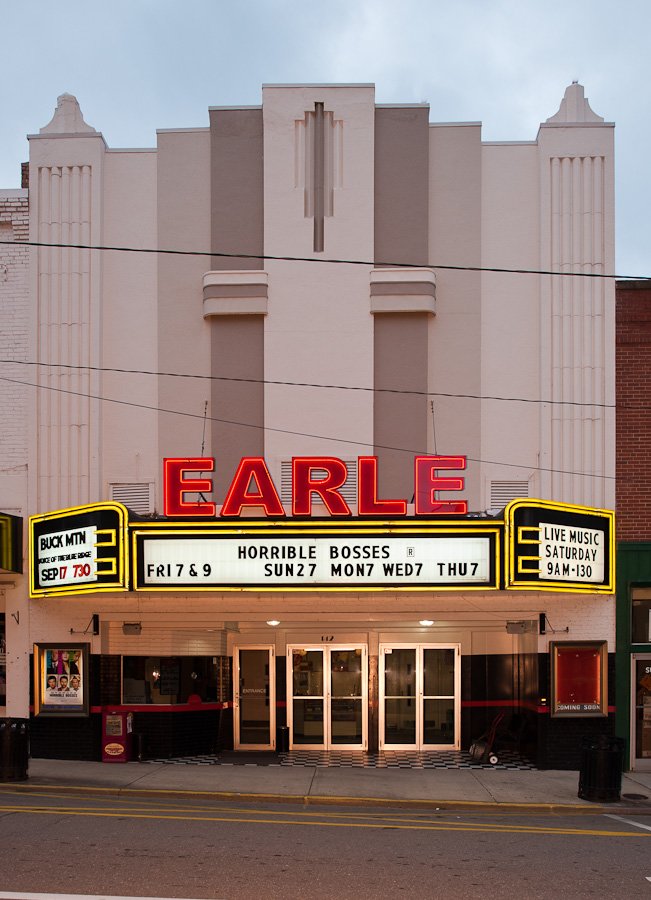 With the start of its new season, the Surry Arts Council has changed the name of the Downtown Cinema Theatre on 142 N. Main St. in Mount Airy to the EARLE Theater. The name change reflects the expanded scope of the Surry Arts Council's vision for the space along with highlighting the historical significance of the building.
Originally known as the Earle many years ago, the theater was built in 1938 by Earl Q. Benbow and Percy A. Boone who also owned the Grand Theater across the street. The cinema gained considerable national attention when it was selected to present the premiere of Shirley Temple's film "Just Around the Corner" in 1938. On March 22, 1940, the cinema hosted one of the southern premieres of "Gone With The Wind." In 1958, the premiere of "A Face in the Crowd," Andy Griffith's first movie, was featured at the Earle.
The theater eventually became part of Stewart and Everett Theatres and later Carmike Cinemas. It closed its doors in 1985 and was donated by Carmike to the Surry Arts Council in 1990. After considerable renovations, the Arts Council began showing movies again in 1994.
The use of the original name is part of the Surry Arts Council's vision for further expanding the cinema. The theater will house exhibits and artifacts from the Old-Time Music Heritage Hall, which is moving from its former space on the lower level of the Andy Griffith Museum.
WPAQ's Merry-Go-Round, the second longest-running live radio broadcast in America, will continue to be held in the theater each Saturday from 11 a.m. until 1:30 p.m. along with jam sessions from 9 a.m. until 11 a.m. The Voice of the Blue Ridge, a monthly concert with a live radio format, will continue to be held every third Saturday at 7:30 p.m.
Movies will still be a big part of the theater with showings each week, and school
programs and community events will continue to take place there.
The Surry Arts Council also oversees programs at the Andy Griffith Playhouse,
Andy Griffith Museum, and Blackmon Amphitheatre.