MUSEUM HISTORY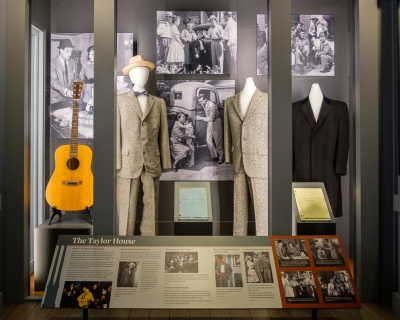 The Andy Griffith Museum opened on September 26, 2009, with the official ribbon cutting during the 20th celebration of Mayberry Days. Many of the items on display were collected by Emmett Forrest over his lifetime to honor the friend he grew up with in Mount Airy.
The collection has been on display at three previous locations in Mount Airy before the museum was constructed. Over many years it has been enjoyed and appreciated by hundreds of thousands of people who come to Mount Airy to see Andy's hometown and the many things it has to offer. The collection now has a permanent home in the Andy Griffith Museum where it will continue to be admired by everyone who visits.
Some of Emmett Forrest's favorite items include actual props used on The Andy Griffith Show that were given to him by Andy Griffith personally, including the signs from the Mayberry Courthouse doors, a suit worn by Andy as Ben Matlock.
The collection also includes personal items given to Emmett Forrest by other cast members of The Andy Griffith Show as well as friends and associates of Andy Griffith. Displays also include items from the estate of Don Knotts (Barney Fife), Maggie Peterson (Charlene Darling), Betty Lynn (Thelma Lou), Earle Hagen (musical director), Hal Smith's Otis Campbell suite from TAGSRWC, George Lindsey (Goober) and Jean Carson (Daphne The Fun Girl).
In 2017 the museum interior was renovated and additional archival measures were taken to preserve the collection. New displays were designed and built to help tell the story of Andy Griffith's career, starting in Mount Airy and continuing through his work on films, television, comedy and music.