Location
218 Rockford Street
Mount Airy, North Carolina 27030

Get Map
Admission
$6 per person
$2 Audio Guide
Contact Us
Phone: 336.786.1604
Email: arts@surryarts.org

EVENTS
Meet Thelma Lou
Betty Lynn, the actress who portrayed Barney Fife's one true love Thelma Lou, is scheduled to visit the Andy Griffith Museum on the third Friday of the month from 12:30-3:30 p.m. She will have autographed 8x10 photos available ($10) and would love to visit with you!
Please check the museum Facebook page for updates on her appearances. Currently scheduled dates include:
May 20, 2016
June 17, 2016
July 15, 2016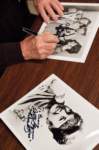 Professor Brower's Lecture Series
Join Neal Brower as he goes deep into the episode and shares back stories and production techniques of episodes of The Andy Griffith Show. Neal Brower has taught classes on The Andy Griffith Show at community colleges across North Carolina and has presented a lecture at Mayberry Days for over 25 years. He is the author of Mayberry 101.

Lectures are scheduleded on the following Saturdays at 2:00 pm in the Andy Griffith Museum Theatre located below the Musuem:

Saturday, June 11, 2016 - The Big House

Saturday, July 9, 2016 - Andy's Rich Girlfriend

Saturday, August 13, 2016 - Goober and the Art of Love

The lecture is free with admission to the museum.
Thursdays at the Museum
Guided tours with Terri Forrest, daughter of Emmett Forrest, Andy Griffith's lifelong friend and museum collector. Come meet Terri Forrest and stories about her father growing up with Andy Griffith in Mount Airy as she walks you through her father's collection devoted to the life and career of Andy Griffith.

PAST EVENTS
Neal Brower Lecture Series, April-August, 2013-2015

Donna Douglas "Elly May Clampett" visit, August 1, 2013

Our State magazine tour of the musuem, June 22, 2013

Neal Brower Lecture Series, April-June 2010

George Lindsey Suit Unveiling, August 27, 2010

George Lindsey's Goober Beanie donation, September 23, 2010 during Mayberry Days (

Press Release

)

Celebration of the 50th Anniversary of The Andy Griffith Show, October 3, 2010

CNN Visits the Andy Griffith Museum, May 10, 2011

Andy Griffith Museum becomes WiFi Hotspot, August 2011

Congressional Representatives Howard Coble and Virginia Foxx visit, April 3, 2012

Andy Griffith Museum hosts a Tribute to George Lindsey in his memory, May 12, 2012

Nancy Stafford, costar on Matlock visit, July 11, 2012

Neal Brower Lecture Series, November 2011-August 2012
Hours
Monday - Friday
9:00 a.m. - 5:00 p.m.

Saturday
11:00 a.m. - 4:00 p.m.

Sundays
1:30 p.m. - 4:30 p.m.